Our team at Carpe Diem is here to help you. We don't pay lip service to the values we preach; we live them... because we recognise ourselves in you.
Haitham
Haitham is the founder of Carpe Diem Krav Maga, the leading Krav Maga school in London and the South East of England. With a decade of Krav Maga experience, he holds one of the highest ranks in the country (IKMF EXPERT) and specialises in teaching civilians, women-only and junior self defence programs. Ranked as an IKMF Lead Instructor, he was trained and tested by some of the top Krav Maga masters in the world including Tamir Gilad, Haim Sasson, Avi Moyal and Amnon Darsa.
Martial Arts and Combat Sports have always been a passion for Haitham which included Boxing, Muay Thai and Tae Kwon Do where he holds a black belt under the International Tae Kwon Do Federation. In more recent years Haitham switched his focus to the topic of self defence with a holistic approach to encompass techniques, principles, phycology and combat. He became a Ghost Fighting instructor under the stewardship of Phil Norman and a FAST (Fear Adrenaline Stress Training) instructor under the founder Bill Kipp. He's currently progressing through the instructor levels for Filipino Street Boxing under Nigel Tropman and Harj Sohal.
Haitham is also a strength and conditioning coach operating 2 successful personal training studios in London and Hampshire. He delivers tailored programs based on StrongFirst Kettlebells, Barbells, & Bodyweight as well as Training for Warriors, TacFit, Ginastica Natural, Ground Force Method and Amazing 12 Body Transformations. He is a certified Functional Movement Screening Expert (CK-FMS & StrongFirst Foundational Strength).
A serial marketing entrepreneur, Haitham also runs a successful Marketing Business Development and Coaching practice leveraging his decades of experience as a marketing executive in the hi-tech industry. When not training or teaching, Haitham spends most of his time with his wife and three daughters. Haitham is CRB checked and a qualified First Aid Responder.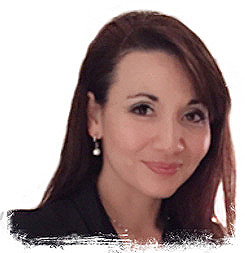 Dawn
Dawn is the co-founder of Carpe Diem Self Defence and it's acting Operations Director... in charge of the day to day running of the organisation. A Krav Maga practitioner herself, Dawn is the often the first point of contact for both perspective and existing members. from arranging trials to helping new members settle in.
Having graduated in Business Administration, Dawn went on to work for ITV and later in the media and fashion industry. Currently Director of a fitness business, she also founded and owned a media design company before deciding to focus on her family.
In 2012 she co-founded Carpe Diem Self Defence and has continued to enforce it's mission of helping provide self defence for everyone.
Kevin
Kevin trained for five years and achieved the rank of P5 before deciding to embark on his journey to becoming an instructor, qualifying from the same instructor course as Haitham.
His interest in martial arts began at the age of ten when he joined a Karate class. He stayed long enough to attain his first belt but youth and peer pressure prevented further advancement. Years later Tae Kwon Do was dabbled with and after two years Kevin attained his first belt as well as an individual silver medal in the lower grade heavy-weight category and a trophy in the team competition. However, despite enjoying Tae Kwon Do, something didn't feel right about the sport and so the journey continued.
A few years later a true Mixed Martial Arts class was joined. Here there was a real emphasis on self defence and Kevin attended for three years, during which time his interest changed from traditional martial arts to a more practical, self defence based system. Sadly, changing job and moving South ended his association with the class. Before he knew it, five years had passed. Years spent sitting behind a desk and failing to get regular exercise! So after a short search with the aid of a friend, Krav Maga was found and cemented self defence as the guiding reason for Kevin training and, ultimately, teaching. Kevin is a qualified First Aid Responder.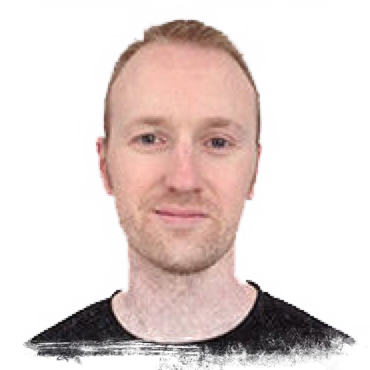 Jonathan
At the age 10 Jonathan took up Judo at his local youth centre. As much as he enjoyed it, he lost interest after a while and moved on to other things. A few years later he found himself on the wrong end of an attack from another boy at school, which resulted with his nose being broken. Looking back it was a situation that could have been easily avoided or dealt with. However, he had neither the training nor the situational awareness to keep himself safe. Not long after that incident, his Mum showed him a leaflet for Tae Kwon-Do classes at a local leisure centre. He liked the look of it and started training there. He stuck with it all the way through high school and only hung up his Dobok when he left his home town to go to university.
In 2006, Jonathan started working for the Police as a civilian in their contact centre, answering phones to victims of crime. Shortly after, he applied to become a Special Constable. The thought of putting on the police uniform and running towards danger was as scary as it was exciting… so he started looking for a good self defence class. At the time he didn't know what was best for him, so when a friend told him about a local Krav Maga class he was going to, he really liked the sound of it. He had never heard of Krav Maga before but after learning how practical and functional it was, he gladly accepted his invitation to go along and train.
The first classes he took in Krav Maga were under an IKMF trainer in Guildford called Matt. The classes were fantastic and very useful with a "real world" approach to self defence. Definitely very different from the traditional martial arts he'd done in the past. However the classes were delivered as one-off seminars, bi-monthly or semesters. The short of it, Jonathan started craving regular weekly training. It was at that time at his local supermarket when he saw an advert for Carpe Diem Krav Maga. They had a weekly class on Monday nights and it was in the sports centre directly opposite his house. It was perfect. From the first lesson he knew it was something special. His experience of martial arts and self defence classes in the past had been classes consisting of mostly big guys who like to fight. Carpe Diem's ethos was different. They focussed on self defence for everyone.
After training with Carpe Diem for a few years and working his way up the practitioner levels, he was approached by his instructor to consider becoming an instructor himself. It wasn't something he had considered before. He gave it some thought, asked a lot of questions and at the end decided it would be a good move for him. He was excited at the prospect of undergoing the Civilian Instructor Course and taking his own class. For as long as he can remember, he always liked helping people and becoming a Krav Maga instructor would afford him the opportunity to give people some of the tools they can use to keep themselves safe.
Jonathan's philosophy on self defence echos the mission statement of Carpe Diem. He strongly believe that self defence shouldn't just be for the strong; those who can already fight. It should be available to all in a friendly and accessible way. He strives to make his classes the best they can be for all his students, regardless of whether they are male or female, fitness levels or personal struggles. It's important to Jonathan to end his classes with everyone feeling they worked hard, smiling, laughing and happy they learned new skills in a safe environment. It is important for students leave class understanding both the principles and techniques of their Krav Maga lessons. And, possibly most importantly, the class was fun. If learning is fun then it doesn't feel like learning. This is something he tries to bring to all his classes.
In his day to day life, Jonathan works for the Police as a Digital Forensic Analyst, specialising in mobile device acquisition and interrogation. He is the youngest in a family of five. He lives in Farnborough with his wife. Outside Krav Maga, he's into just about any outdoor activity, especially ones that involve mountains. He skies in the winter and climbs mountains in the summer. Not surprisingly he loves mountain biking. He is also a big fan of hiking, camping and bushcraft.
Jonathan is a qualified Krav Maga civilian and kids instructor. He trained and tested by the leading Krav Maga experts Israel Cohen, Israel Tamir & Tamir Gilad. Jonathan is a qualified First Aid Responder.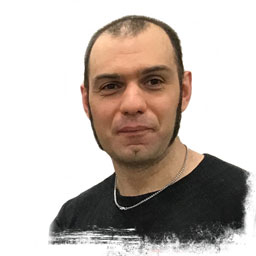 Mattia
Curiosity drew Mattia into Krav Maga. With a reputation for being the most complete and efficient self defence system in the world, he just had to give it a go. He attended his first class with Carpe Diem in Fulham and fell in love with it straight away… mainly because the solutions taught were based on real-life scenarios. He trained regularly, tested under the IKMF before taking up apprenticeship to become an instructor.
Having qualified under the most senior coaches in the world, Mattia is a key member of the Carpe Diem instructor team. Becoming an instructor came to him naturally as he was driven by a passion to help everyday people develop awareness and confidence to live their lives without fear.
His philosophy on self defence is simple... avoid confrontation as much as possible, but if that's not an no option then hit first; hit quick; hit hard.
Mattia's other interests include cooking, good wine, music, travel, football, beer and tattoos.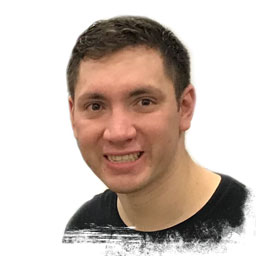 Pablo
Growing up Pablo was always interested in learning martial arts. However, it wasn't until he was robbed at knife point as a teen that his parents decided to enrol him into a martial arts school. That journey began with 2 years of Tae Kwon Do. He also dabbled in Wing Chung, Tai Chi, USMCMA, Capoeira and Karate... but none of them really stuck. Through research he became aware of Krav Maga and decided to give it a go. After his first lesson he never looked back. Mainly because of it's practicality, effectiveness, ease of learning and application to real life situations.
Pablo started his training at Carpe Diem in Feltham. After training for 3 years and grading a few times, he was nominated as an instructor candidate. An opportunity he seized with both hands.
With a natural affinity to sharing knowledge, becoming an instructor was not hard for Pablo. His enjoyment of Krav Maga is reflected in his teachings, especially when it empowers people to really feel safe in their surroundings.
Occam's razor, "the simplest solution is likely the right one..." In dangerous situations the simplest, fastest solution will likely save you, or at least give you enough time to come up with something more complex. Krav Maga does that for Pablo as he firmly believes self defence is not about proving you are better than others, but giving people the tools they need to get home safely.
Pablo is physiotherapist in a London hospital. He is forever taking up challenges. He completed the London marathon, a few half marathons and 5 Tough Mudders. Fluent in 3 languages, he enjoys reading, video games, going to the cinema and hanging out with friends. Family and his spiritual life are the things he values the most.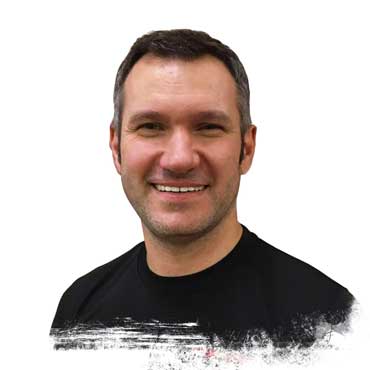 Darius
Darius has been interested in all kinds of martial arts from an early age. Back in the 80s, the age of Karate, Ninjas and Kung-Fu movies, everyone at his school tried to outdo each other using the latest fancy moves. However, he quickly learnt those moves were not applicable in real world, so he practiced Combat Sambo and Judo with his dad.
When asked what made him want to take up Krav Maga? He answered "My daughters. Everyone needs to be able to protect their family. "
Darius has been practicing Krav Maga from 2016. He was pretty much addicted from day one. Becoming an instructor in 2019 was a natural progression for him as he believed he can learn a lot more through teaching others… plus , he loves it.
Darius is a big believer in the need for people to learn self defence. For him it's an essential life skill. However, he also believes violence is only the last resort, where possible people should avoid it or strike first.
If you are lucky enough to attend one of Darius' classes then you can expect to play a lot of games, he has a reputation for it… people learn best whilst they are having fun.
During the day, Darius works in Information Technology and holds qualifications in Industrial Design. He is a husband, a father to two girls and has a cat called Tigger. As a family, he loves camping, kayaking and other outdoor activities.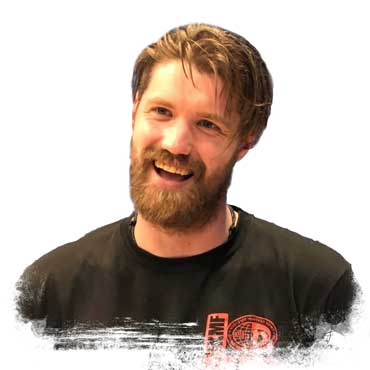 Oliver
Olie started his Krav Maga training back in 2015 at with Carpe Diem in Guildford. A former Capoiera practitioner, Olie was attracted to the real world applications of Krav Maga. After several years of studying and training In Krav Maga, he realised teaching and helping people learn self defence was hugely rewarding to him, so he enrolled into the IKMF instructor course and graduated in 2019.
His philosophy on Krav Maga is simple, violence isn't the answer right up until it becomes the only answer. Olie is a big fan of fitness and believes in reality based scenarios in friendly and inclusive environments.
Olie works as a chef during the day. He is avid coffee drinker, foodie, huge fan of music and literature, fitness junkie and a father.
Alarice
A former junior Krav Maga student herself, Alarice is an assistant at our Junior Self Defence classes in Fleet. She started her martial arts journey with ITF Tae Kwon Do where she achieved her black belt at the age of 11 under the stewardship of Master Howard Douglas. Later she took up Krav Maga to develop her self defence skills. This gave her the unique perspective of understanding applications of combat sports and self defence, but most importantly what it's like to be a junior Krav Maga student. Alarice holds a level 1 award in Sports Leadership.
Alarice is the eldest sibling in her family where she embraced the responsibility of being a role model to her younger sisters. A high achieving academic student, she's currently studying for her A levels with aspirations to undertake a business degree at university. Some of her other past interests included tennis where she was ranked 2nd in Hampshire.