Krav Maga (Hebrew for Contact Combat) is a practical and realistic system which teaches you how to prevent, avoid, deter, or deal with all kinds of violent threats and attacks, including those with weapons. Krav Maga educates people in the subjects of self defence, self protection, fighting and combat skills, as well as skills to defend others. Krav Maga is taught in a unique and comprehensive manner and was developed in Israel under realistic conditions.
---
---
---
---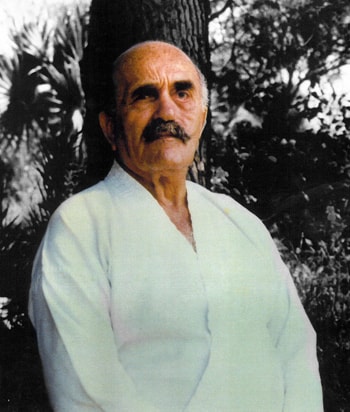 Imrich "Imi" Sde-Or
The founder of Krav Maga.
Imrich ("Imi") Sde-Or, founder of Krav-Maga, was born in 1910 in Budapest, which at the time was one of the centres of the Austro-Hungarian Empire. He grew up in Bratislava, the capital of Slovakia, in a home where sports, law, and Central European education were equally respected.
Samuel Lichtenfeld, Imi's father, was undoubtedly quite a unique figure. At age 13 he joined a traveling circus, and for the next 20 years engaged in wrestling, weightlifting, and various demonstrations of strength. For him the circus was also a school, where he met people involved in a wide variety of sports, including some quite unusual ones. These people taught Samuel what they knew – including various martial arts. With his father's encouragement, Imi became active in a wide range of sports. He first excelled in swimming, and subsequently in gymnastics, wrestling, and boxing.
In 1928 Imi won the Slovakian Youth Wrestling Championship, and in 1929 the adult champion- ship (in the light and middle weight division). That year he also won the national boxing championship and an international gymnastics championship. During the ensuing decade, Imi's athletic activities focused mainly on wrestling, both as a contestant and a trainer.
In the mid thirties, conditions began to change in Bratislava. Fascist and anti-Semitic groups appeared, determined to upset the public order and harm the city's Jewish community. Imi became the un-crowned leader of a group of young Jews, most of them with a background in boxing, wrestling, and weightlifting. This group attempted to block the anti-Semitic bands from entering the Jewish quarter and wreaking havoc there. Thus, between 1936 and 1940 Imi took part in countless violent encounters.
In 1940, having become a thorn in the side of the anti-Semitic inclined local authorities as a result of his activities, Imi left his home, family, and friends and boarded the last immigrant ship that succeeded in escaping the Nazis' clutches. The vessel was an old riverboat named Pentcho, that had been converted to carry hundreds of refugees from Central Europe to the land of Israel (then called Palestine). The gripping story of the Pentcho and its passengers is told in detail in the book Odyssey by John Birman (published by Simon & Shuster, New York, 1984). Imi's private odyssey aboard that ship and afterwards, which was filled with thrilling episodes, took about two years.
In 1944 Imi began training fighters in his areas of expertise: physical fitness, swimming, wrestling, use of the knife, and defences against knife attacks. During this period, Imi trained several elite units of the Hagana and Palmach (striking force of the Hagana and forerunner of the special units of the IDF), including the Pal-Yam, as well as groups of police officers.
In 1948, when the State of Israel was founded and the IDF was formed, Imi became Chief Instructor for Physical Fitness and Krav-Maga at the IDF School of Combat Fitness. He served in the IDF for about 20 years, during which time he developed and refined his unique method for self-defence and hand-to-hand combat.
Rare footage of Imi talking about Krav Maga.
After he finished his active duty, Imi began adapting and modifying Krav-Maga to civilian needs. The method was formulated to suit everyone – man and woman, boy or girl, who might need it to save his or her life or survive an attack while sustaining minimal harm, whatever the background of the attack – criminal, nationalistic, or other. To disseminate his method, Imi established two training centres, one in Tel Aviv and the other in Natanya. Even during his last years, Imi continues to personally supervise the training of those who have attained high ranks in Krav-Maga, and to spend time with the instructors in Israel and abroad. Imi monitored the trainees' progress and achievements, captivating them with his personality and imparting them with his knowledge and unique personality.
Imi, a teacher, a fighter and a great human being, passed away on the 9th of January 1998.
Imi demonstrating Krav Maga techniques.
---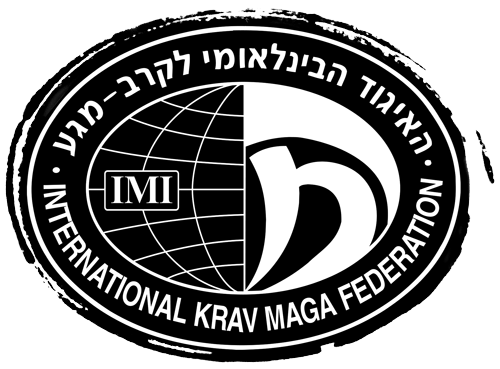 The IKMF
International Krav Maga Federation
When the teaching of Krav Maga started to spread beyond the borders of Israel, arose a need to establish an international organisation. This happened mostly because the initial Krav Maga association at the time was divided and not functioning efficiently due to dissension amongst the higher graded instructors. Imi formed a new international federation with the support of his most loyal students and respected instructors.
Once the IKMF was finally formed, all expert and master diplomas, grades and levels as well as a new curriculum were authorised and approved by Imi. That included subsequent changes to the new IKMF curriculum in 1997.
Since 1996 the IKMF has expanded globally and is now the largest and most appreciated Krav Maga institution worldwide.
The IKMF has branched out and is successfully active locally, in Israel as well as in Australia, North America, South – east Asia, the Far East, most EU countries, and ex-communist countries (such as Poland, Russia and Hungary). The general structure of IKMF organisations in each country are relatively similar: a country/regional director responsible for the growth of Krav Maga in his/her country, and a team of highly qualified instructors to facilitate.
The IKMF trains and educates all types of trainees, with or without Krav Maga (or other martial art) background, such as civilian students, military personnel, security and protection staff, law-enforcement officers and instructors.
---
In Krav Maga, there are no hard-and-fast rules. It is not a sport, and there are no competitions. All the techniques focus on maximum efficiency in real-life conditions. Krav Maga generally assumes a no quarter situation; the attacks and defences are intended to inflict the most pain possible on the opponent. Groin strikes, head-butts, and other efficient and potentially brutal attacks are emphasised. The guiding principles for those performing Krav Maga techniques are:
neutralise the threat
avoid injury
go from defending to attacking as quickly as possible
use the body's natural reflexes
strike at any vulnerable point
use any tool or object nearby
The basic idea is to first deal with the immediate threat (being choked, for example), prevent the attacker from re-attacking, and then neutralise the attacker, proceeding through all steps in a straightforward manner, despite the rush of adrenaline that occurs in such an attack. The emphasis is put on taking the initiative from the attacker as soon as possible.
Krav Maga featured on Human Weapon.
Although Krav Maga shares many techniques with other martial arts, such as Boxing, Savate and Muay Thai (for the punches, kicks, elbows and knees) or Ju-Jitsu, Judo and Wrestling (for the grappling and disarming techniques), the training is often quite different. It stresses fighting under worst-case conditions (for example, against several opponents, when protecting someone else, with one arm unusable, when dizzy, or against armed opponents).
Training in Krav Maga is an aerobic workout, and relies heavily on pads. Students take turns holding pads and doing combative against the pads. This is important because it allows the student to practice the technique at full strength, and the student holding the pad learns a little of what it feels like to get hit. It can be almost as taxing to hold a pad as to practice against one. Some schools incorporate "Strike and Fight," which consists of full-contact sparring intended to familiarise the student with the stresses of a violent situation.
Training may employ a speaker system blasting loud music, stroboscope and/or fog machine meant to train the student to ignore peripheral distractions and focus on causing as much damage as possible. It may also contain ways to deal with situations which could end in fights. Physical and verbal methods to avoid violence whenever possible are taught.
A typical Krav Maga session in a civilian school is about an hour long and mixes aerobic training with self-defence teaching. As levels increase, the instructors focus a little less on aerobic training and slightly more on combative. First, the instructor will run a very intense drill to get the class's heart rates up. Then, after stretching, the instructor will teach two or three self-defence techniques. In the beginning the techniques will either be combative (punches, hammer-fists, elbows, knees and roundhouse kicks, for example) or grappling (breaking out of chokes or wrist-grabs, getting out from under an opponent while on one's back). After that, the class usually moves to a drill that combines the techniques just taught with an aerobic technique. Finally, there is the final drill intended to burn out the students. Depending on the class – and on the instructor's mood – this drill may be at the very beginning or at the end of the class.
Krav Maga featured on Fight Quest.
---
These are practitioner grading levels for Krav Maga students. The Students' uniforms have white trim & logos on black attire. Their grading patches are gold with black bars representing their level i.e. 2 bar = Practitioner Level 2 (P2). The Practitioner Levels of Krav Maga are the core of the system.
Students learn how to defend against the most common attacks, as well as building on their fighting skills and learning how to avoid a situation or what to do after a confrontation. Training also improves fitness, strength, flexibility and mental determination.
These are mainly Krav Maga instructors who wear red trim & logos on black attire. There may also be G level students who have not taken the instructor's certification, thus don't wear red trimmed uniforms. The grading patches are cobalt blue with black bars representing their level i.e. 1 bar = Graduate Level 1 (G1). Students are eligible to move into the Graduate program 6 months after completing their P5 grade.
More advanced skills are taught at G level, including dealing with more complicated situations. Students are expected to have a full understanding of all the P grades and continue to keep those skills at a high level whilst progressing through the Graduate program.
These are high level instructors. Usually specialising or assisting in other areas such as Police, Special Units or Military instruction, in addition to their civilian qualification. Expert Instructors' uniforms have gold trim & logos. Their grading patches are gold with red bars.